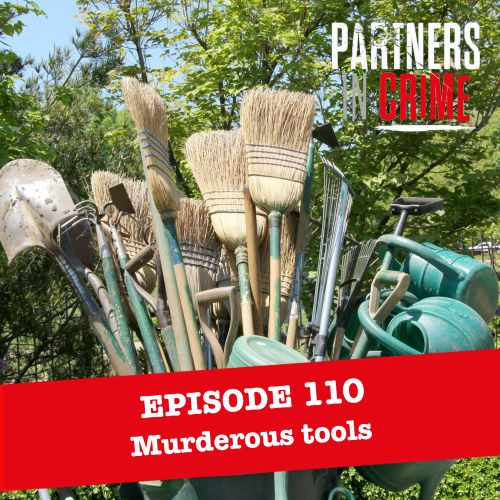 Would you like to hear Adam's tips on how to keep your grass looking lovely and green? Did Bob get past the first round on Pointless Celebrities? And just how loud is his shirt this week?
To find out all this and more, listen to the latest episode of Partners in Crime, with Adam Croft and Robert Daws.
Adam tells us all about HarperFiction's plans to mark Karin Slaughter's 20th book in 20 years with SlaughterFest, Bob recommends some audiobooks and we hear who the Theakston Old Peculier New Blood authors are for this year. 
Bob talks about himself on the telly (with a few name-drops, naturally), while Adam takes the promotion of his new book a little too far, by turning his garden into Rutland Water.
~ Moriarty ~
RECOMMENDATIONS
Bluebird, Bluebird audiobook by Attica Locke https://www.kobo.com/en/audiobook/bluebird-bluebird-3
Winter: A Berlin Family, 1899 - 1945 audiobook by Len Deighton https://www.kobo.com/en/audiobook/winter-a-berlin-family-1899-1945-2
June's Patreon free book of the month: Kill For Love by Malcolm Richards  https://www.kobo.com/en/ebook/kill-for-love  To get this book for free, become a patron at patreon.com/partnersincrimepodcast
Don't forget your exclusive Partners in Crime discounts through Kobo. Get 90% off your first purchase using the code CRIME at checkout. And you can also get 40% off all books using the code PARTNERS when you shop using this link: bit.ly/PartnersKobo
If you'd like to support Partners in Crime and get early access to every episode — on video — plus lots of other goodies, head over to patreon.com/partnersincrimepodcast
CONTACT US
Email: hello@partnersincrime.online
Facebook: facebook.com/groups/crimefictionpodcast/
Twitter: twitter.com/crimeficpodcast
Instagram: instagram.com/crimefictionpodcast/
Website: partnersincrime.online
Patreon: patreon.com/partnersincrimepodcast
Play Now